Wide Format Printers (Toledo Ohio Dealer)
If you're looking for wide format printers in Toledo, look no further than OBM.  We offer a full line of Canon printers that deliver stunning black-and-white prints, detailed gradations and a huge variety of colors. 
 
These wide format printers feature the LUCIA PRO ink system that uses microencapsulated pigment inks and a Chroma Optimizer for enhanced gloss uniformity and improved scratch resistance.  Here's a quick look at our wide format printers in Toledo, including the imagePROGRAF series from Canon.   
imagePROGRAF-6000S, 4000S and 2000S
These wide format printers are ideal for on-site printing of retail signs, posters and infographics. They are perfect for marketing departments, agencies and other creative firms that need to maximize productivity while still maintaining high image quality.  Both the imagePROGRAF-6000S, 4000S and 2000S deliver enhanced overall color performance and consistent color reproduction, and they produce detailed, photorealistic images extremely quickly. Take a look at some of the key features that these wide format printers have to offer. 
Enhance gloss uniformity

 

Improve scratch resistance

 

Enhance dark area reproduction

 

Reduce graininess

 
No switching of black inks

 
Color collaboration

 

Wi-Fi connection

 

Effortless media loading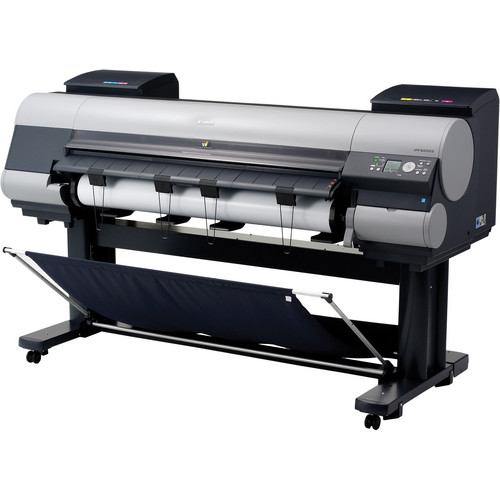 imagePROGRAF-800, 700 and 600
These wide format printers are ideal for architects, engineers, construction and GIS professionals, as well as businesses, institutions and schools, that are looking for a precise, accurate and speedy solution for printing technical documents. Right out of the box, they come loaded with user-friendly software for general use printing. These wide format printers feature: 
12-color pigment ink system

 

Dual print head system

 
Print driver

 

Plug-ins for Adobe Photoshop
Software with professional editing tools and templates

 

Software for designing and printing posters 

 
For those who need scan-to-copy and file-share solutions, the MFP is exactly what you're looking for. The MFP series is equipped with a large-format scanning system for entry-level, low-volume use on Canon's LE models. These wide format printers feature: 
iPF830 44-inch printer

 

One-media roll system

 

SmartWorks MFP software

 
Computer

 

Touch screen monitor

 

MFP stand
Among the companies that offer wide format printers in Toledo, OBM stands out from the competition. Our full line of Canon wide format printers will give you the ability to output vivid, professional photography, signage, infographics and posters, as well as a wide format technical documents. 
Importantly, when you choose a Canon wide format printer from us, you get more than a state-of-the-art printing solution. You get an entire team of professionals who can assist you with all of your document management needs. Give us a call at (419) 861-8000 or contact us online to learn more.  We're excited to hear from you.